Posted on
May 16th, 2011
by Delilah Devlin

I have five, count them, FIVE releases this month! It's crazy. And there's no way I can adequately get the word out for them all. Here's a quick rundown. If any strike your fancy, click on the cover and read an excerpt! ~DD
May 1 — The Warrior's Touch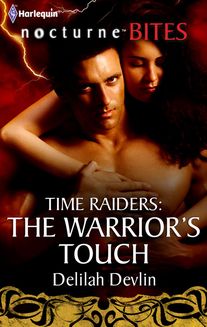 Lieutenant Farideh Kalani expected her time-traveling assignment in ancient Scythia to be difficult, but fitting in with Amazon warriors is easy compared to being partnered with Sergeant First Class Caleb MacAvoy. The Texan soldier is infuriatingly smug and undeniably sexy. Then with one kiss, he awakens all Farideh's desires. Now she'll have to keep an eye on her mission and try to resist her attraction to Caleb. Because he's the one man who might be able to breach the walls she's built around her heart….
* * * * *
May 13 — Begging For It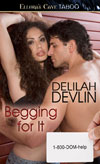 She needs punishment…before she deserves pleasure.
Tragedy scarred TJ Lipton. Now, the only way she can find pleasure is when its delivered with a heavy-handed dose of S&M. But finding a lover who can give her what she needs proves an elusive quest—until she finds the sex club Unfettered and a Dom named Cross McNally.
Cross understands all too well what drives TJ. He takes command of her body to give her everything she needs—restraint, the stinging kiss of a flogger, the thrill of a three-way—a sexual adventure that pulls her beyond her painful past and has her begging for more of his tender brand of domination.
* * * * *
May 26 — Her Soul to Keep
His name is Viper—a dark mysterious enigma who rules the seedy, dangerous vampiric underworld. For one night, he will escape his murky prison and tempt an innocent.
…can last a lifetime…
Beautiful Mariah haunts him. Lures him from his den with a glimpse of his past. One she doesn't remember. This night, he'll be her dream lover. He'll seduce her, make her fall in love with him—then leave her. Again.
One night of pleasure is all they must know.
* * * * *
Plus, featured in two Cleis Press collections…