Everything in a nutshell…
Rebecca Royce is a New York City girl living with her husband and three children in Austin, Texas. She loves happily-ever-afters, science fiction—specifically, Star Trek, Star Wars, Doctor Who and Dune—broadway musicals, comic book movies, and anything that makes her go, WOW, I didn't see that coming.
She has a website where you can see her books and sign up for her newsletter. See the link below!
Although a lot of people know her for her bestselling wolf-shifter series (multiple), lately she is writing Reverse Harem New Adult Romance, Science Fiction Romance, and Dystopian Young Adult stories. She still loves Wolves and writes them as well. **Note on her RH series, Wings of Artemis, each heroine gets two books to complete her happily ever after. Two books. Melissa–Two Books. Diana-Two Books. Future Heroines–Two Books**
Rebecca is almost always on social media (she writes with it on) and loves to hear from her readers. Come say hello sometime.
| | | |
| --- | --- | --- |
| Books | Social Media | Website |
Tradition Be Damned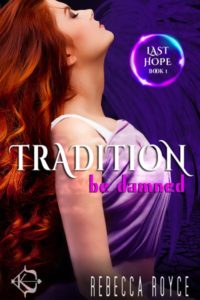 It is the end of days…
Taken from her family at birth, and raised by the mystic Sisterhood, Anne understands she will fight the demons for the rest of her life. Often referred to as the Weird Sister, Anne longs for a life she knows she can never have and dreams of her five guards affections although she believes they hold her in disdain.
She couldn't be more wrong.
Bryant, Mason, Garrett, Kieran and Milo see Anne for who she is and they've loved her every day they've known her, although they can never see her face. Fate has chosen them as her beloveds and when the already destroyed world falls apart, they will see they are meant to be…and that maybe all hope is not lost at all. Maybe it is just the beginning.