Everything in a nutshell…
Rebecca Royce is a New York City girl living with her husband and three children in Austin, Texas. She loves happily-ever-afters, science fiction—specifically, Star Trek, Star Wars, Doctor Who and Dune—broadway musicals, comic book movies, and anything that makes her go, WOW, I didn't see that coming.
She has a website where you can see her books and sign up for her newsletter. See the link below!
Although a lot of people know her for her bestselling wolf-shifter series (multiple), lately she is writing Reverse Harem New Adult Romance, Science Fiction Romance, and Dystopian Young Adult stories. She still loves Wolves and writes them as well. **Note on her RH series, Wings of Artemis, each heroine gets two books to complete her happily ever after. Two books. Melissa–Two Books. Diana-Two Books. Future Heroines–Two Books**
Rebecca is almost always on social media (she writes with it on) and loves to hear from her readers. Come say hello sometime.
| | | |
| --- | --- | --- |
| Books | Social Media | Website |
Redhead on the Run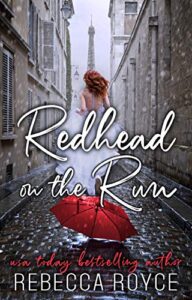 Running away on my wedding day probably wasn't the best idea. Horrified by the future I'd signed up for, I turned right around and rushed up the aisle away from my drug-addicted groom….and right into the arms of my father's estranged business partner, Zeke Scott.
Zeke makes me a promise: he'll help me become independent, the kind of woman I've always wanted to be, if I help him discover my father's hidden secrets proving his betrayal.
But Zeke is a man with secrets of his own and although our love should be forbidden—he is sixteen years older with a lifetime of experience—I can't resist the pull between us. The longer our explosive arrangement goes on–the less I want to.
He's another man in my life who wants something from me but at least he's honest about it and his kisses come with promises of freedom from the gilded bars I've spent a lifetime behind. But when the time comes to leave…can I walk away at all?
*This book has a happily ever after, with a complete love story. The reader should be aware this is a dark age gap contemporary romance with a possessive hero and a heroine who needs to find her way to know herself. They have a lot to go through to find their forever love. This is the first in a series where every book is a different couple and each book has a happy ending.