Hi everyone! I'm so excited to announce that Susanna's Seduction is available. You should be able to purchase your copy at Samhain.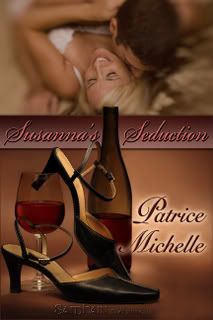 Susan Brennon never expected that running an errand for her future sister-in-law would land her a spur-of-the-moment date.  When Michael leads her down a sensual path of seduction, she takes on the sexy Italian full-throttle, all the while keeping her heart under tight guard.  Every person she's formed a close attachment to has moved on.  She doesn't expect Michael to be any different.
From the moment he touches Susan, Michael Piccoli wants her. But as their relationship grows more physical, he finds that for the first time in his life he desires more than sex from a woman—he wants the whole package with Susanna.  Michael's determined to break through the rigid hold Susanna has on her emotions. He'll do anything to reach her, even if that means taking their relationship to a whole new level.
My readers often ask how I came up with a story idea, so I thought I'd post where my idea for Susanna's Seduction came from.  Five years ago I originally wrote a short 1,400 word story targeting a national magazine that publishes short romantic fiction.  The story didn't sell to that publisher and it sat on my hard drive for a few years.  I often share short stories with my Yahoo group members and one day I shared that short story with them.  I had so many readers asking, "Where is the rest of the story?"  Which I replied, "Um, that's it. It's a short story."  Many of my readers said they wanted to know what happens and well…that's why I wrote Susanna's Seduction.  I guess you could say lots more experience and my readers inspired me to keep going. 😀
I hope everyone enjoys Michael and Susanna's story!