I'm thrilled that on Tuesday, March 3, one of my favorite books will re-release in trade paperback: BOUND AND DETERMINED. Let me give you the 411…then a little story to go along with it.
Berkley HEAT
ISBN-10: 0425226905
ISBN-13: 978-0425226902
Genre: Sexy Contemporary Romance
Re-release Date: March 3, 2009
WANTED FOR KIDNAPPING: A bubbly blonde with a penchant for trouble. May be armed (with good intentions) and dangerously seductive…
Kerry Sullivan is running out of time-and patience. With her brother wrongfully accused of embezzling millions, she can't face one more humiliating hang-up from the man she's begging for help. Rafael Dawson may be one of the top electronic security experts in the country — and the only man who can prove her brother's innocence — but his phone manners are appalling. Damn Yankee. Too bad kidnapping the man isn't an option. Or is it?
There's nothing Kerry wouldn't do for her brother. There are lots of things she longs to do to Rafe Dawson when he's lying tied-up and naked in her secret hideaway. Rafe is certainly something to look at, but Kerry's brother's life is riding on her pulling off the impossible: getting this man who's always in control to lose it. But when the tables get turned, Kerry finds herself at Rafe's mercy. And the only way to get her way is to let him have his way — with her…
Click here to read an excerpt.
REVIEWS:
***Top Pick***
"Shelley Bradley has outdone herself with this highly entertaining read. Falling in love should be so much fun!" — Romantic Times Magazine
"BOUND AND DETERMINED is steamier than a Florida night, with characters who will keep you laughing and have you panting for more!"
— New York Times Bestselling Author Susan Johnson
"A searing, frolicking adventure of suspense, love and passion…A must read!"
— New York Times Bestselling author Lora Leigh
"Plenty of chick-lit wit… In BOUND AND DETERMINED, much sexy fun is had by all."
— New York Times Bestselling Author Angela Knight
"BOUND AND DETERMINED is a flawless story that grips a reader from page one and doesn't let up… Ms. Bradley's imaginative storylines and irresistible characters keep her readers coming back for more… Don't miss it!"
— Road to Romance
"BOUND AND DETERMINED had me laughing out loud one minute and reaching for a glass of ice water the next… a definite Perfect 10."
— Romance Reviews Today
"This fast paced romantic adventure will take you on the hottest ride of your life."
— Coffee Time Romance Reviews
"You simply won't want to put BOUND AND DETERMINED down once you turn over the first page. Ms. Bradley simply shines… A fabulous book I'm not likely to forget in a hurry."
— Aggie, Just Erotic Romance Reviews
Okay, so now for the story I promised. Notice I said re-release… The new cover and the review quotes above should give you some idea that this book is sexy, maybe even erotic. Definitely not your grandmother's Harlequin. (And must say here, I'm not dissing Harlequin at all, but this isn't something they would have published back in the day…) So imagine my horror when the book was first released in 2006 with this cover: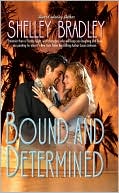 What????
Nothing about this says sexy suspense with a wicked edge of humor. Not one thing. When I pointed this out to my editor at the time, she said, "We think this is very sexy." Really? Have you been living under a rock?
I unaffectionately began calling this cover "Virgin Barbie and Guido go to the Prom". *sigh* I've heard complaints that this heroine looked 12, but I pictured her much this way. No, my major complaint is him and his…attire. That guy isn't bad looking, but he's not Rafe. And Rafe would NEVER, EVER wear that shirt or the "pimp chain" many others pointed out.
This time, when Berkley decided to re-release the book…I got to pick the cover. Thank goodness. So, just like the book itself, its cover has a story that finally ends happily. Oh, and part deux, as my husband likes to call it, STRIP SEARCH re-releases, again with a MUCH improved cover, in July. I can't wait.