Jackie Ivie was born and raised in a suburb outside Utah's capital, beautiful Salt Lake City. The second in a family of four daughters and one son, Jackie was constantly amusing her siblings with her invented games, escapades, and stories. And she was always reading. She would even walk the family dog, with one hand holding the leash, while the other held the ever-present book. No subject went unread, but once she discovered Historical Romances, there was no doubting her favorite genre.
Jackie has always been the busy type, rarely sitting still without being occupied in at least one activity, and usually more. When she was younger, it was nothing to find her watching television, while doing her homework, listening to music, crocheting like a madwoman, and reading, all at the same time.
After graduating, Jackie gained secure employment with a large service company and relocated with her growing family to the neighboring, sparsely-populated state of Wyoming. She then spent several years enjoying the wildlife, scenery, and open space that Wyoming is known for.  In addition to writing, Jackie is an accomplished artist in several mediums, preferring mixed media. She has several pictures in print and has exhibited in art showings throughout the West. There was never anything she loved doing more than reading, however, and once she discovered the thrill involved with putting her own words and fantasies on paper there was no stopping her.
In 2001, Jackie and her family took a huge step and moved to the largest state of the nation; Alaska. Although it was her job that brought her here, Jackie has grown to love this land of amazing contrasts, breathtaking vistas, and the ever-present resident, the Alaskan moose. There's nothing else like it, and the very long days of summer lend themselves to hours and hours of energizing tasks, while the long winter nights are just right for her real love…writing.
Jackie has now written thirteen novels and is continually starting more.
The Hunted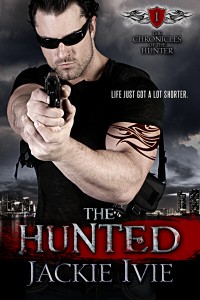 Cold.  Calculating.  Deadly. 
She lifted her head. She might have glanced toward him. He didn't check. He was in a realm of suspended motion, while pretending to regard the row of stalls facing them. She craned her neck, turning away to look over exactly what he was. And that just put her perfect bosom on display! Despite the idiocy of it, Kane glanced down. One breast was getting smashed and lifted by contact with him. The other was barely held in check by her little bikini bra. As he watched, the pink tone of her skin went darker. She turned back to him, but didn't look up. She was focused on the approximate area of his upper chest.
"Oh. Geez. I am so sorry," she whispered.
"You have to do something for me, LeeAnn."
"I don't know what got into me."
"Don't move. Okay? Don't even twitch."
"Kane. Um—."
"I'm about to do something really stupid. Ill-advised. And dangerous."
She lifted her gaze to his. Making eye contact with her was a huge mistake. Even through his dark lenses. The connection sent a swell of sound through his ears while a bolt of electricity shot through him, singeing skin the entire way.
'What?'
Her mouth made the gesture. She may have said it. He didn't hear anything except a long, drawn-out, perfectly pitched note. He couldn't think. He just stood there, vibrating with the effort of keeping everything checked. Held in place. Locked.
Her eyebrow lifted as she waited. And Kane replied with something his mind hadn't cleared.
"I am going to kiss you."
She gasped. Her lips curved slightly in a smile. Despite the hold he exerted everywhere, he almost returned it.
"You are?" she asked.
He licked his lips. "Yeah."
Oh. Shit.
She moved.