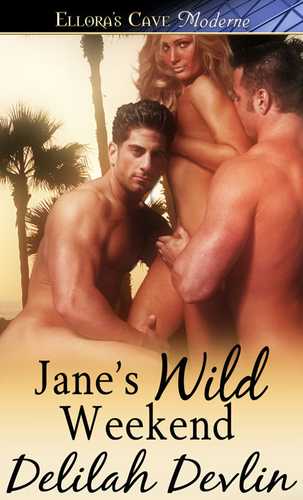 Do I have to warn you this story's hot? Or that the three people on the cover will share more than tanning lotion? This book releases on Friday—just in time for the weekend! Be sure to read the bottom of this blog to find out how you can enter the contest for two great prize packages!
*~*~*~*~*~*~*~*~*
Jane wants Bruno…Bruno wants Cord…Cord wants Jane…but can everyone get what they really want?
Jane, fresh from a breakup, decides to seduce Bruno, one of the firemen next door, to restore her shattered confidence. But the trap she sets is sprung instead by his best friend, Cord. After she flees in embarrassment, Bruno makes a proposition too wicked for any good girl to consider, but how can she refuse the chance at not one, but two strapping firemen?
Bruno's shared women with Cord before, but decides to use Cord's attraction to Jane to break down his defenses for the ultimate threesome. Cord thinks he knows how this little tryst will go down, but he's seduced into allowing Bruno intimacies this hetero guy has never before considered.
*~*~*~*~*~*~*~*~*
Check out my blog for details about the contest! When you post here you are automatically entered. And follow this link to read an excerpt: Jane's Wild Weekend