You would guess correctly if you said that I do.
I can't help myself. Thirteen years in the Lonestar State, a working cattle ranch as my back yard…well, it was inevitable. Even average-looking men look dayum hot in Wranglers and a tall hat.
As a writer, I'm the ultimate flip-flopper. I write a paranormal, then have to write a man on horseback. Write a sexy contemporary and immediately have to find that oversized pickup truck and a set of scuffed boots.
Which is good if readers like those slow-talkin' men. We'll see.
At the tail-end of last month, TEXAS MEN released. You may have seen it in the stores. The cover's kinda hard to miss.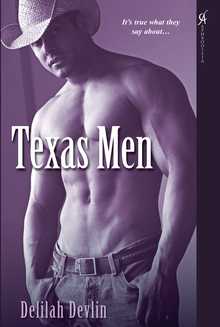 Last fall, as soon as I wrapped up TM, it was on to the next in my DARK REALM books. You know, cowboy—demons/vamps/werewolves—then, it was back to another cowboy, or in the case of SADDLED, two.
Yeah, the only thing better than one cowboy is two. But the good news is you don't have to wait long to quench your appetite. SADDLED will be out, ready for instant download on the 31st of this month. If you'd like to take a peek inside, just click on that sexy cover!