To celebrate the release on Wednesday of Fun With Dick and Jayne, I'm running a countdown contest! The prize is a $25.00 gift certificate from Amazon.com. To enter, all you have to do is post a comment on this blog posting or on any posting on my own blog through Wednesday—multiple entries mean multiple chances to win!
Come on over and read some sexy excerpts—I promise, I'll whet your appetite for more. Delilah's Blog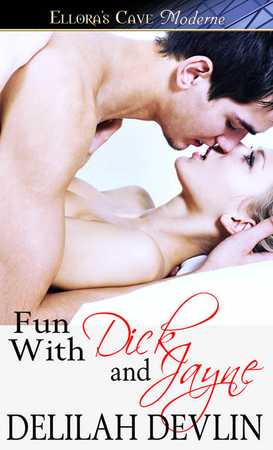 He didn't know the nightly peepshow was just a naughty invitation…
Garrett knows what he's doing can get him into trouble, but he can't help himself. Every night, as he arrives home, the blonde across the alley gets busy with her boyfriend with the blinds open. He's spent the past two weeks getting an eyeful and falling deep into lust.
But when Garrett sees a man in a black ski mask sneak into his sexy neighbor's bedroom, he doesn't know he'll be the one captured.
Jayne has a nice life with a nice lover who sees to her every need, but she's still drawn to the lonely man across the alley. She's been sharing her deepest fantasies with him from afar, but is ready to up the stakes. When she talks Richard into enacting a dangerous scenario, everything works out as planned. Only Garrett's not happy about being played. And he's got reservations because she already has a lover and he's not into threesomes. Guess she'll just have to convince him otherwise.