New York Times and USA Today bestselling author Cathryn Fox is a wife, mom, sister, daughter, and friend. She loves dogs, sunny weather, anything chocolate (she never says no to a brownie) pizza and red wine. Cathryn has two teenagers who keep her busy and a husband who is convinced he can turn her into a mixed martial arts fan. When not writing, Cathryn can be found laughing over lunch with friends, hanging out with her kids, or watching a big action flick with her husband.
| | | |
| --- | --- | --- |
| Books | Social Media | Website |
SingleDad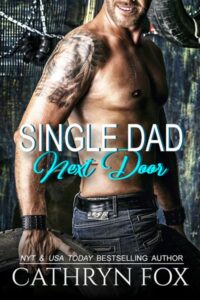 Jaxon Hall gave up raising hell the day he became a dad—there's no greater rush than seeing his little girl's smile. Now if he could just convince his in-laws that he's a responsible adult, fully capable of raising his motherless child.
Every girl in Rachel's sorority wants the smoking hot mechanic next door, herself included, but a man is the last thing she needs in her life—especially a tattooed single dad with a reputation as a badass. A man like that draws attention, and a woman hiding out from an abusive ex needs to keep a low profile. But when her car breaks down and he comes to her rescue, it's not just her spark plugs he gets firing.
Women hadn't been on Jaxon's list of do withouts, there just hadn't been any energy left to even think about one—until the girl next door comes up empty on cash to pay for her car repairs and offers housekeeping and babysitting services to even the debt. It's the perfect arrangement until #1—the in-laws mistake Rachel for his girlfriend, and #2—she moves into his home. Their agreement is hands off, business only, but being around her is a special kind of torture that quickly reminds him he's still a man, and now, with more time on his hands, he'd finding it harder and harder to keep them off of her.
Buy Your Copy:
Amazon: https://amzn.to/2qdb1lp
BN: https://www.barnesandnoble.com/w/single-dad-next-door-cathryn-fox/1128193573?ean=9781928056874
Kobo: https://www.kobo.com/ca/en/ebook/single-dad-next-door
iBooks: https://itunes.apple.com/ca/book/single-dad-next-door/id1369556740?mt=11
Google: https://play.google.com/store/books/details/Cathryn_Fox_Single_Dad_Next_Door?id=h6RUDwAAQBAJ