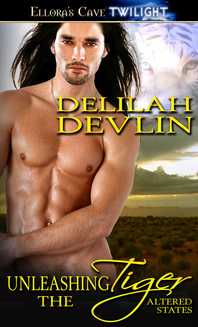 Tomorrow, I'm heading off to Orlando. This is just a quick flyby to let you know about the book releasing this Friday while I'm gone and the contest I'm running to celebrate the new release. This is what my story is about:
An analyst in a secret government agency, Casey McTaggert's professional life has been dedicated to the capture of one suspected terrorist. Even before she's abducted by Khalid in the midst of a firefight, she's completely fascinated with the man they call the "The Tiger." But what began as a professional obsession quickly becomes lust as his dark, Persian features and harshly hewn body awaken a forbidden passion.
Khalid Razeh can't fight the genetic programming that makes him shift into a tiger any more than he can resist the sensual allure of his lovely hostage. While forcing her to accompany him on one last mission, he fights the overwhelming attraction, knowing that he is walking into a trap that will end in death. Casey's tender lovemaking and growing belief in his innocence are a sweet balm to his wild, savage soul.
The book releases on Friday from Ellora's Cave, but I'll be in Orlando partying…er, working it. If you'd like to win a box of Romantic Times swag and a couple of books, be sure to post a comment here. For more chances to win, visit my blog.