I'm running a contest today. Be sure to post here, then post on my blog and you will have two entries!
On March 24th, I have a new release. Something I had a lot of fun writing. Something that has one of the funniest scenes I've written to date. I hope the teaser I share with you today will have you marking your calendar! Enjoy!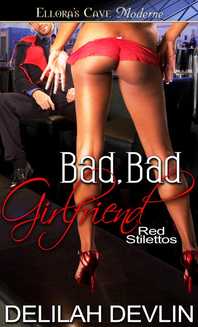 Expect magic when one determined woman dons a legendary pair of red stilettos and bares body and heart to get her man's attention…
Jolene's a big, beautiful woman with an even bigger heart. But she's become her police officer boyfriend's favorite doormat and that's so not working for her. It's time for a little conversation, time to tell Mr. Happy Pants to "pee or get off the pot".
Gabriel has seen what his profession does to marriages. He's not willing to risk that kind of heartbreak. Besides, he likes what he has with Jolene. The woman is sex personified. So when Jolie tells him she won't see him anymore if he's not willing to commit, he's shocked and angry.
With a girlfriend's encouragement and the added confidence a certain pair of red stilettos gives her, Jolene arranges a special show at a strip club to prove to Gabe once and for all that she's more woman than any man can handle, and if he doesn't want the job, then she'll find another lover who does.
*~*~*~*~*~*~*~*~*~*~*~*
Jolie's apartment door swung open and Gabe's gaze slid down her body in a slow, hungry crawl. She wore a silky robe in a bronzy orange, which hugged her curves like his hands were itching to do. However, her hand was still on the knob, and she hadn't backed up to let him in.
He leaned against the doorframe. "Am I too late?"
"Are you too late?" she said slowly.
Jolie's tone was always like warm honey when she expected sex—soft and oozing down his spine—but right now, a sarcastic edge tightened her voice. And he didn't like the militant gleam in her dark chocolate eyes. What had put her into a bad mood? Could she be mad at him? He hadn't done anything out of the ordinary.
"If this is a bad time…"
Her soft jaw tightened, but she took a step back and waved him inside.
He breathed a sigh of relief and stepped across the threshold, his hands going to the buttons at the front of his dark uniform shirt as soon as the door closed behind him. A soft huff of breath halted him, and he looked up to find a scowl sinking a line between her dark brows. "What?"
She slowly shook her head. For a fleeting moment, her eyes filled but she blinked away the moisture. "Nothing."
"I'm sorry. Should I step out the door and come back in? Something's bothering you."
Her eyes narrowed. "So you think you need to step outside while I get over it?"
"Yeah…"
Her scowl deepened.
"What?"
Her shoulders slumped and she shook her head. "Nothing. Nothing at all." She turned on her heel and headed to the bedroom.
For the second time in five minutes, he sighed his relief. He'd thought, for just a moment there, that she would ask him to leave. That had never happened.
But then, she'd been acting a little funny lately. Quiet and brooding. With another woman he might have thought it was just her time of month, but Jolie wasn't moody. One of the many things he appreciated about her.
As he followed her down the hallway while she flicked off lights heading to the bedroom, he mulled it over and thought he might have found the answer. She'd finally decided dating a cop was too harrowing.
After his partner had gotten shot last summer, she'd been a gem, bringing food to the hospital for the men who waited in the halls, calling the wives, babysitting their kids while they took turns waiting with Lexie, Tyler's girl. Now that Tyler was back at work and everything had returned to normal, she'd had time to think about what happened. She couldn't handle it.
Gabe tamped down the searing disappointment. He'd miss her. He'd always known this day would come. Deep inside, he'd held part of himself back from her because he knew better than anyone that living with a cop was hard. Too stressful for most marriages to survive.
His own mother had stuck it out, soldiering on as friends were lost along the way, until she'd crumpled on the porch when the chief of police and chaplain climbed the steps to deliver the terrible news. From that moment, she'd never pulled herself away from the dark place she'd entered.
Jolie was smart. She'd gotten a taste and decided to protect herself from a grim future.
Still, he was here. Maybe for the last time. He'd make it special, let her know he held no grudges. He'd tell her to move on and not feel guilty that she wasn't strong enough for the life. He'd be gentle. And if his chest felt a little tight, well, he'd get over it. This was how it had to end.