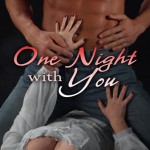 One Night With You releases from Ellora's Cave on May 9.  Got the cover today.
This is a contemporary, not part of any series or anything.  It's nice not having to keep track of recurring characters, the eye color of the hero from book A, or the hair length of the heroine in book B….   ;o)
  Logan knew from the first time he saw Bo Martin that she was the one for him. They were just teenagers then, but he knew. He spent years quietly waiting for her to grow up and when he finally made his move, he moved too fast and scared Bo away. She stayed away for four years but circumstances outside his control kept him from going to her when she finally returned. 
   Now it's too late. Bo's engaged to one of Logan's best friends. But he'll be damned if he lets that wedding happen. All he needs is a little bit of luck, and one night to convince Bo that she belongs with him.
Hope you all like it!
Shi
www.shilohwalker.com