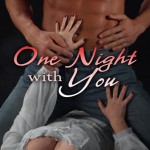 I have TWO releases due out in May, Always Yours from Samhain and One Night with You from Ellora's Cave.  And *GASP* not a vampire or were in the bunch.
One Night With You is straight contemporary.
Logan knew from the first time he saw Bo Martin that she was the one for him. They were just teenagers then, but he knew. He spent years quietly waiting for her to grow up and when he finally made his move, he moved too fast and scared Bo away. She stayed away for four years but circumstances outside his control kept him from going to her when she finally returned.
Now it's too late. Bo's engaged to one of Logan's best friends. But he'll be damned if he lets that wedding happen. All he needs is a little bit of luck, and one night to convince Bo that she belongs with him.
This releases from Ellora's Cave on May 9th.And Always Yours…releasing from Samhain on May 1~a romantic suspense with a paranormal bent.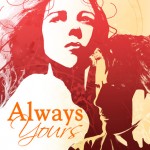 When a traitor left Army Ranger Dylan Kline paralyzed for months, he figured life was just about over. Once more, he's nobody again. Then a woman from his past comes back into his life and shows him a new purpose. Of course, if he had listened to her months earlier, he may not have been injured in the first place.
The dreams had plagued Kirsten Everess for most of her life. But she was always too late—they never came in time for her to stop anything. Until the dream about Dylan. Too bad he didn't listen to her.
Now for the contest…one ebook from my backlist, EBOOK FORMAT ONLY, just tell me which genre you prefer and why down in the comments section….I'll draw a winner sometime here in the next week and the winner gets to pick an ebook from my backlist.
only ONE entry per IP…